Written by Susan Boulanger for Art New England, May/June 2011
---
Marcia L. Vose, Vose Galleries
---
By Alice Flaherty, MD, PHD
---
By Cate McQuaid, Globe Correspondent
---
WBUR
---
---
2011
Art New England
---
A Conversation by the Sea
Written by Susan Boulanger for Art New England, May/June 2011
Children clambering on sea-washed boulders, a fly-fisherman midcast and midstream, quartets of musicians in rapt rehearsal-each rendered vividly, tenderly, realistically, in a call to the here and now, to the gesture that constitutes lived experience. The contemporary realist paintings in Duets-Theme and Variation, Warren Prosperi's selection of paired images at Vose Galleries (May 16-June 25, 2011), offer everyday New England sites and activities as focal points for time-dissolved absorption-meditations on time, seeing and being.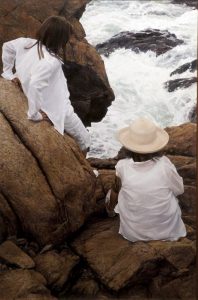 A long, venerated tradition of American realism-not interrupted but augmented by Americans' fascination with photography-runs through Alfred Bierstadt, Thomas Eakins, Edward Hopper, Charles Sheeler, Alice Neel, and Andy Warhol, among others. Where edgy or ironic subject matter has most recently been used as the bona fides of this stylistic choice, Prosperi turns to older sources for confirmation of the power of perceptual realism, a power once rooted in the conception of the physical world as the revelation of the divine. In exploring the fall of light on objects and figures in naturally rendered environments, Prosperi exalts values of clarity, simplicity and directness familiar in Jan Vermeer and other masters of the form.
In a modern touch, the paired images provide an almost cinematically shifting vantage on what the overall sequence illustrates: ways of being and living in the world. The two figures in Conversation by the Sea (Bass Rocks, Gloucester) I and II, for example, alternately huddle together and range apart, the two views suggesting the dualities of our human resources-social, individual, expressive, inward-in the face of nature's control of our physical and psychic well-being.
Rather than exploiting or resolving the conflicting impulses of replication and idealization, the artist embraces them as equally valid ways and traditions of seeing and visual expressing. In Museum Epiphany I and II, for example, two women stand together and yet apart, each isolated from the other in her absorption in the museum's ice-white fragments of Greek marble. The sculptures, with their purity of volume and plane, are compelling and suggestive in their timeless, remote solidity, and beauty, but less so than the warm, thoughtful, protean women who contemplate them.
---
2011
Vose Galleries
---
Duets: Theme and Variations New Paintings by Warren Prosperi
Introduction
If it hadn't been for a stroke of good luck, Vose Galleries would still be continuing its ten-year countrywide search to find a world-class figure painter. As it happened, our artist in residence, Peter Greaves, was at our framer's studio and noticed an incredible portrait by a painter totally unknown to us named Warren Prosperi. Peter was stunned by the quality, and within the week Peter and Carey Vose made a studio visit, returning to the gallery with rave reviews. Here was a world-class figural painter right in our own backyard!
For the past twenty years, Warren has been quietly living the life of a portrait painter and muralist. A single commission to paint a posthumous portrait of Dr. Tom Hackett, former head of psychiatry at Massachusetts General Hospital, lead to the commissioning of twenty one more portraits of distinguished Massachusetts General doctors, which now hang throughout the hospital. Because of this long and successful association, the hospital awarded Prosperi a major commission to paint a historical panorama of the first public demonstration of ether, marking the birth of modern surgery that took place at Massachusetts General in 1846. Unveiled in 2001, the 10 by 7 foot mural employed twenty MGH surgeons and physicians as models for the reenactment and now hangs permanently in the former surgical amphitheater.
Raised in Fort Myers, Florida, Warren began drawing at age five, when he became engrossed by artist John Gnagy's television series of the 1950s, Learn to Draw. Later the artist spent every Saturday at the Ringling Museum of Art in Sarasota, which the artist calls his "spiritual home." Sadly, Warren's father died during the polio epidemic of the nineteen fifties, and Warren assumed the duties of "man of the house". When he turned eighteen, Warren sold the family home, packed his mother and brother into their Volkswagen bus and headed for Boston, hoping to become an artist. "I wasn't drawn by the vanguard art movements in New York City," states the artist, "and knew Boston to be more traditional and historically inclined; the 'Athens of the East'." To support the family, Warren became head decorator for Filene's department store in Belmont, MA, for four years, but the urge to paint became overwhelming.
He found inexpensive housing at the Interfaith Center on Beacon Street, cleaned and mopped floors for the Blue Parrot Restaurant in Cambridge during the early morning, then copied the old masters at the Boston Museum of Fine Arts in the afternoon for two years. "Rembrandt, Millet, Velasquez, Reubens, Chardin became my mentors", Warren states. "Reubens sketches reveal almost everything going on in the 17th century, and he taught me how to use paint. Another great source was a book written by a restorer of old master paintings at the Louvre in the 1920s. From him I learned all the techniques and materials used in the earlier centuries."
Warren was the personification of the starving artist at this point, but he believed, "If I keep painting, everything will be all right. Doors will open." And open they did. Within the year, Warren would immediately become smitten with Lucia Roetter, an attractive young waitress who was working at the Blue Parrot during the summer after graduating from Hampshire College. "I pursued her like a freight train", exclaims the artist, "and luckily she reciprocated. We've been together ever since."
The couple eked out a living, but their fortunes changed when a Harvard friend showed Warren's portfolio to the Harvard continuing education department. They subsequently hired him to teach classical drawings from plaster casts, and soon many of his students began studying with him privately at his studio from live models, affording the artist an income and time to paint. From there, Lucia began selling his work to friends and nearby businesses, and two of their earliest major collectors, Saul and Naomi Cohen of Hammond Realty, offered them their carriage house for nominal expenses in exchange for paintings. They lived there for sixteen years as Warren continued to master his craft and he and Lucia built a market for his work.
During this time he established his reputation as a portrait painter with his many commissions from Massachusetts General Hospital, and subsequently painted the portraits of Dr. Donlin Long, former chief neurosurgeon at Johns Hopkins Hospital; retired Massachusetts Senate President William Bulger; Adele Simmons, former president of the MacArthur Foundation; and Vartan Gregorian, president of the Carnegie Institute.
Also during his stay at the carriage house, Warren began his mural career, painting six murals on permanent display at the Joslin Diabetes Center, depicting the center's history, which later lead to two murals for the lobby of the Rhode Island Hospital, one of patient care in 1886 and the other of patient care in 2005. We have had many lively meetings discussing art philosophy with Warren and his wife, Lucia, who has always played a large role as Warren's business manager and close collaborator. It is an unusual partnership, one that combines two bright minds converging on all aspects of each painting. "Lucia and I view things both aesthetically and personally so similarly, that even our differences work to build a cohesive artistic vision," notes Warren. Lucia continues, "I think the reason the collaboration works as well as it does is because intuitively I know where my contributions end and his easel work begins."
Warren aligns himself with the tenets of optical naturalism, a method started by Caravaggio, perfected by 17th century masters Hals and Velasquez, and continued by late 19th century contemporaries Zorn, Sorolla, and Sargent. "This tradition examines the nature of visual experience and the structure of an actual moment," cites the artist. Warren employs a complex set of visual inventions with a particular emphasis on light/dark contrasts. One of the artist's current students, Dr. Alice Flaherty, a renowned neurologist and noted author at Massachusetts General Hospital, has spent many hours with Warren and Lucia trying to understand the connection between how the mind works and how it relates to paintings. Dr. Flaherty's fascinating essay on the subject is included in this catalogue.
In preparing for this exhibition, Warren was particularly excited to find another outlet for his creativity, and began a two-year process defining his focus and preparing a cohesive body of work. Initially, the artist wanted to work on a theme similar to that of genre painting, focusing on people in the moment, reflecting both the character and environment of the subject. As he traveled around New England for subject matter, however, he rediscovered a passion for painting the landscape and decided to change the focus of his theme somewhat. He would paint two views of similar subject matter: two different images of a woman gazing at a statue in a museum, for example, or a fisherman viewed from two different angles. The result is both simple and elegant!
Warren has the rare ability to make his subjects come to life, and is an expert at facial expressions and body language. His figures are often pensive and engage the viewer in wondering what the subject might be thinking about. What are the two little girls discussing as they ponder the pounding surf? With her hands clasped, a woman gazes at a classical marble statue and appears deeply touched. The artist's focus on moments of everyday life allows the viewer to identify with the scene, establishing a sort of intimacy. His masterful design sense, creative approach, and painstaking craftsmanship are all hallmarks of his immense talent.
"When I came to Boston in 1968, I visited Vose Galleries and was crushed that they didn't handle living artists at that time. Now my dream of having a show here has been realized, and I am reminded of my old mantra: 'If I just keep painting, everything will be all right. Doors will open'." We are so pleased that this door opened into Vose Galleries.
Marcia L. Vose, Vose Galleries
---
2011
Flaherty
---
Artists Show Us How We See
By Alice Flaherty, MD, PHD (original article appeared in Vose Galleries Catalog for "Duets, Theme and Variation")
Many conversions with Warren and Lucia Prosperi have made me fascinated with the way artists affect our perceptions and emotions. As a neurologist, I'm curious about how the brain processes visual art. Artists teach us to see the world differently, of course. What's less well known is that their techniques can also show us how we see, how the brain makes images of the world. Scientists have begun to study artists to learn what artists instinctively know about how we extract form and meaning from the jumble of information our eyes take in.
When skilled artists look at a painting, they do so differently from people with untrained perception. Even the eye movements of artists are different. Artists' eyes fixate on figures for longer periods of time than amateurs do, but less often. Instead, artists look more widely at the background, in part to see how the picture is built. Most people, when looking at a painting like Warren Prosperi's Museum Epiphany II, have eye movements like those shown below in the lefthand figure.
They look rapidly back and forth between the living faces, with a few forays to the marble heads that mirror them and a glance at the feet and plinth. An artist viewing the painting may spend relatively more time on the gradation of light across the white wall, or the relationship between the parallel columns of the womens's bodies and the two pedestals.
Artists work to keep the viewer's eyes from glancing off the surface of things, to help the viewer look longer and deeper, as artists do. One of Prosperi's characteristic techniques to slow down the viewer's eyes is the way he plays with basic aspects of vision, such as figure-ground transitions. All human brains are wired so that we see a shape as either figure or ground, but never both simultaneously. In the famous Rubin face-vase illusion, all of us see alternately the white vase or the two dark profiles that outline it, but we must pause to make sense of the image. Artists are more aware that in any picture the background is a shape too.
Conversation by the Sea, shows a delicate ambiguity in figure-ground relations. It is more easily seen when looking at the painting upside down, so that the subject matter doesn't distract us from the design transitions. Viewed this way, it is more evident that the sea foam's brightness pulls it forward visually, even though it is in the background of the scene. The reversed luminance presses the seascape into the foreground and creates visual tension.
Figure-ground ambiguity in painting work the way subtle puns do in poetry: they show us similarities we didn't expect. Because contour is the major cue that the brain uses to identify forms, the children's pale clothes make their bodies hard to distinguish from the white breakers. The children could be bits of sea foam thrown higher on the rocks. When Prosperi twists and breaks up a scene's contours, he helps us see beyond conventional categories, such as "cute kids" and "surf", to something new.
The pursuit of the new in art is fraught with risk, because the viewer may recoil from objects that are too unfamiliar. Our brains are wired from birth to look longer at novel objects than at familiar ones–but only if the new things are only slightly new. Our eyes and bodies instinctively withdraw from very unfamiliar stimuli. This makes sense evolutionarily, because large changes in our environment are typically destabilizing or dangerous. Most people do better exploring what they already know.
Nonetheless, some people-explorers, inventors, artists- search for new experiences from birth. Not only their upbringing but also specific novelty-seeking genes help drive their pursuit of the new. Explorers' maps and artists' paintings help us incorporate their discoveries into what we already know. Thus, rather than create an alienating sense of strangeness, art can evoke an emotionally rich combination of newness and familiarity. Both the experience of novelty and of recognition come from the temporal lobe of the brain. That lobe is, not coincidentally, also the region that controls object recognition in art and our sense of meaning.
The most highly refined object recognition that humans can do is face analysis. Indeed, one region at the bottom of the temporal lobe is hard-wired to recognize human faces. Viewers' precision in face discrimination makes portrait painting challenging. When an artist paints a face, moving a brushstroke 1/64th of and inch can change an emotional expression. Two or three such changes can make a viewer say, "Oh, that doesn't look like her at all." Precision and bush control at thine a level can take a portrait from good to great.
At the same time, selective loss of fine detail can make a painted portrait paradoxically seem more real. Self-Portrait, for instance, at first glance seems hyperrealistic. A closer look shows that minor features such as the shirt front are indistinct. This mirrors the action of our retinas, in which only the central focus of vision is sharp. The painting's chiaroscuro, its exaggerated contrast between light and dark, removes all but the core of the subject's body, yet creates a greater sense of depth and dramatic interest.
A painting that plays with fundamental aspects of vision, such as depth perception or figure-ground contrasts, can defamiliarize objects and make us see them anew. After the retina and the brain's primitive visual areas detect color and contour, temporal lobe regions identify objects and faces, and finally image analysis moves forward into brain areas that compare what we perceive now with with our memory of past experience. At this higher-level stage, the painter's choice of subject contributes to the painting's narrative and emotional associations. The painting Morning Light, for instance, has resonance for lovers of Dutch painting because of the way its slanting window light recalls Vermeer's delicate illumination. The tableau recalls our own past kitchens and cats and the quiet of Sunday
mornings.
Painting, like photography, excels in its ability to capture a particular moment of light and gesture. But the painter's greater range of technique can more easily help our minds travel from the particular to the universal. The complexity of Prosperi's technique paradoxically uses the way our brains perceive images to move us beyond perception, to give an experience of more direct contact with the world around us. The vividness of that experience helps take us outside ourselves.
Alice Flaherty, MD, PhD, is a neurologist at Harvard Medical School and the author of The Midnight Disease: The Drive to Write, Writer's Block and The Creative Brain.
---
2011
Boston Globe
---
Boston Globe: "Accuracy is in the details"
Prosperi painting depicts pivotal moment in the Battle of Bunker Hill
July 01, 2011|By Cate McQuaid, Globe Correspondent
SOUTHBOROUGH — Through the early morning hours of June 17, 1775, American colonists dug a trench and built a wall on Breed's Hill. As dawn broke, the British below saw the activity and lobbed cannonballs at the culprits — to no avail, because they couldn't shoot them high enough.
But one cannonball bounced up the hill and hit a man — believed to be Asa Pollard, a Tewksbury farmer who had come with his brother, his uncle, a nephew, and several buddies to support the cause. Pollard was killed. The Battle of Bunker Hill ensued. Another American didn't fall until late afternoon.
"The First Casualty of Bunker Hill,'' an elegant, minutely detailed 7-by-10-foot painting by Warren and Lucia Prosperi now filling the front hallway at Vose Galleries, captures the moment: The early morning sun casts a rosy glow as men lean over the dead man's body, stunned and sickened.
"It seemed like an incidental death. Not the heat of the battle. But after Asa's death, people started leaving,'' Warren says. Prosperi is animated, on the edge of his seat in his studio, a former carriage house that adjoins the house he shares with his wife, Lucia, and son, Kit, in Southborough. He's 62, neatly dressed in a tie and vest on a hot day.
He adds, "The guy in charge, Prescott, said 'Bury this guy. I need to keep my men in place.' ''
It was a pivotal moment.
"This was a moment of choice, a symbol of the choice to go to war those farmers faced, on what Abigail Adams called 'the day of decision,' '' Warren says.
He undertook to paint it. First, the Prosperis dove into research. They brought on historical researcher Kevin McDermott to keep the facts straight, which was not easy.
"The whole process was unwrapping a giant, fuzzy ball of confusion,'' McDermott says. "The painting ended up being completely different than it was going to be.'' He says the Prosperis initially envisioned a painting of Pollard's burial, but McDermott didn't deem their source material for that scene reliable.
"Never, ever did Warren and Lucia dig in their heels,'' he continues. "In every respect, they respected the historical record.''
"You can make it dead accurate,'' says Lucia, 60, nursing a cup of licorice tea in Warren's studio, "and still not totally know what happened.''
There was much more to do before the paint hit the canvas.
The Prosperis hired historical reenactors and staged the scene on a friend's property. Lucia took hundreds of photos, from which Warren would ultimately paint his mural. To add another level of chaos, a film crew was on hand to document the process; an independent film about the Prosperis is in the beginning stages.
In all, the painting took two years to complete and cost about $60,000, underwritten by a private investor.
"The First Casualty of Bunker Hill'' is part of an exhibition, "Duets: Themes and Variations: New Paintings by Warren Prosperi,'' at Vose Galleries through July 16. In addition to the mural, there are several paired paintings. "Casting Upstream'' and "Stripping Out Line'' depict a fisherman knee-deep in water — in one, a shimmery expanse, in the other, burbling white water. "Museum Epiphany I'' and "Museum Epiphany II'' portray a young woman encountering classical statues in the Museum of Fine Arts.
David Croll, an MFA trustee and a collector of American Impressionism and Boston School paintings, is a longtime admirer of Warren Prosperi's work.
"He's probably one of the best contemporary figurative painters I've seen,'' Croll says. "[Looking at a Prosperi painting] you know it's a current artist, with a sensibility that's modern, but it's also an academic painting, classically representational.
"He draws allusions to Caravaggio, Velázquez, Sargent,'' Croll continues. "He's trying to capture a moment with a figure reacting to surroundings. An 'aha' moment. Even with a portrait.''
The Bunker Hill painting succeeds on many levels. (The Prosperis don't allow the painting to be reproduced in its entirety; the only way to see the completed work is in person.) Prosperi knows how to make a dramatic composition, how to capture light and the subtlety of skin tones, and perhaps most importantly, how to convey the emotional reality of the moment.
"It's a multiple portrait,'' he says. "All about the psychology of the people.''
Prosperi is not well known in the commercial art world. As a young man, he taught himself to paint by copying masterpieces at the MFA. But his interests were contrary to those of the art world at the time. Lucia works in tandem with Warren on all the paintings, and her initials appear on the back. They have made a living creating commissioned portraits, mostly of people who run hospitals.
"We build a vision together,'' Warren says. "She knows where that ends and the easel work begins.''
Their interest in history painting began 20 years ago, when the Joslin Diabetes Center invited Warren to paint a series of murals about the clinic's history. Ten years ago, Massachusetts General Hospital asked him to capture a moment from MGH history: the first use of ether.
"Coming out of modernism, history painting was the lowest of the low. It hadn't been practiced for a long time,'' Warren says. "We thought, Why not revive history painting, and be journalistic and factual about it?''
The history paintings that most people think of — such as Emanuel Leutze's 1851 "Washington Crossing the Delaware'' — don't depict what really happened. "It's the operatic approach. The opposite of what we're doing,'' Warren says. "It goes for the message and leaves out the facts. We pick a moment where the facts and the details convey the message.''
The Prosperis intend to make "The First Casualty of Bunker Hill'' the first in a suite of four Revolutionary War paintings, and they're seeking backing for the project. They say they hope to find someone who will purchase and donate them to the city of Boston.
Warren calls the project "a suite for unsung heroes.'' Each painting will depict an "aha moment,'' including an image of Samuel Whittemore, an elderly colonist facing down a British rifleman after the Lexington alarm; Henry Knox's ox-drawn transport of cannon over the Berkshires from Fort Ticonderoga to Boston; and American rabble-rousers confronting a Custom House guard, which led to the Boston Massacre.
It's not all about glory, heroism, and legend-making.
"We don't want to filter out the ugly stuff,'' Lucia says. "We're working … so people can feel what people went through.
"It's familiar to us,'' she adds, "like what we're witnessing in the Middle East right now.''
Indeed, the Prosperis' history painting lines up with work by contemporary artists who have traveled to the Middle East to document strife there, such as journalistic war painters Steve Mumford and Arabella Dorman. The Prosperis' methods are cinematic, like those of contemporary photographers such as Gregory Crewdson. Bringing a portrait painter's depth of psychological realism to the table, the Prosperis make history paintings that are distinctly contemporary.
"We've never been in synch with the times [before],'' Lucia says. "We're excited.''
Cate McQuaid can be reached at catemcquaid@gmail.com.